TuneUp Your PC For Maximum Performance! Regular tune-ups protect your PC from viruses, crashes and more. Get tuned and stay tuned with TuneUp.com to keep your PC working at peak performance.
A healthy PC is an essential first step to a secure PC! Once tuned up and given a clean bill of health, keep it that way with regular visits to TuneUp.com, your PC's HMO.
There is no other service like TuneUp.com, Quarterdeck Corporation's one-stop, online PC service center to help PC owners keep their computers "tuned up" and running at peak performance. TuneUp.com has a unique combination of software, information and support to help you keep your computer hitting on all cylinders.
All of the software at TuneUp.com is small for fast and easy download and installation, but packed with powerful Quarterdeck technology. TuneUp.com is the most affordable and easy way to keep up with the latest software updates, keep your PC continually free of viruses, and find useful information about PC care - all at one convenient online location - www.tuneup.com. Be sure to stay tuned for more great new TuneUp services coming soon from Quarterdeck.
For just $4.95 per month, or $39.95 per year (a one-time payment), your membership in TuneUp.com includes:
TuneUp AV - "Must-have" anti-virus and hard drive diagnosis and repair software, featuring powerful best-of-breed anti-virus technology licensed by Quarterdeck Corporation. Download the TuneUp AV software to scan your system immediately, then update TuneUp AV monthly from the TuneUp.com site to be sure you are always protected from new viruses.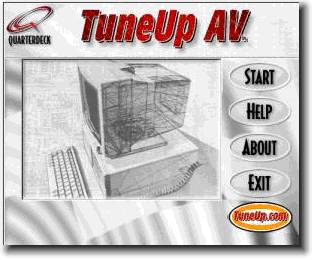 TuneUp - Keep your computer up to date with thousands of updates from hundreds of software publishers and hardware manufacturers. Simply download TuneUp software, securely profile your computer and get a comprehensive list of updates that you can select and then install automatically.
TechDirectory - Need to talk directly to a software or hardware manufacturer? No problem. We've partnered with SupportHelp.com to provide our subscribers with comprehensive technical support telephone numbers, USPS and e-mail addresses plus hot links to hardware and software vendors' Web pages.
Tip of the Day - Learn quick ways to maximize your PC's performance. Did you miss yesterday's tip? No problem, you can check out Archived Tips.
BugNet - Written by Bruce Brown, syndicated author and certified bug detective. Read Bruce's daily dates, monthly BugNet column and Alert full of prognostications about computing trends and the latest news about recently discovered bugs in popular software programs.
TuneUpForum - Organized by topic, forums let you post public messages and replies to our staff and fellow subscribers on a bulletin-board style message board.
Searchable Knowledge Base Library - We've put together an ever-expanding library of the most up-to-date answers to our customers' most frequently asked technical questions. That includes FAQs from the experts at BugNet too!
ShopTalk Monthly Newsletter - Every month you'll get the latest news from Quarterdeck about TuneUp.com services and information conveniently delivered to you via email.
Customer Service & Technical Support - Extensive online resources plus friendly and knowledgeable people with answers about TuneUp.com services and about your TuneUp.com account.
It's all Free for 30 Days to give you a chance to kick the tires. Hit the "TuneUp.com Now!" below up at the top of any page and take www.tuneup.com for a spin!